'Go Gourmet Virtual Event Series' A Hit
Chicago Gourmet brings annual food festival into homes with celebrated chefs like Kwame Onwuachi, Thai Dang, Art Smith.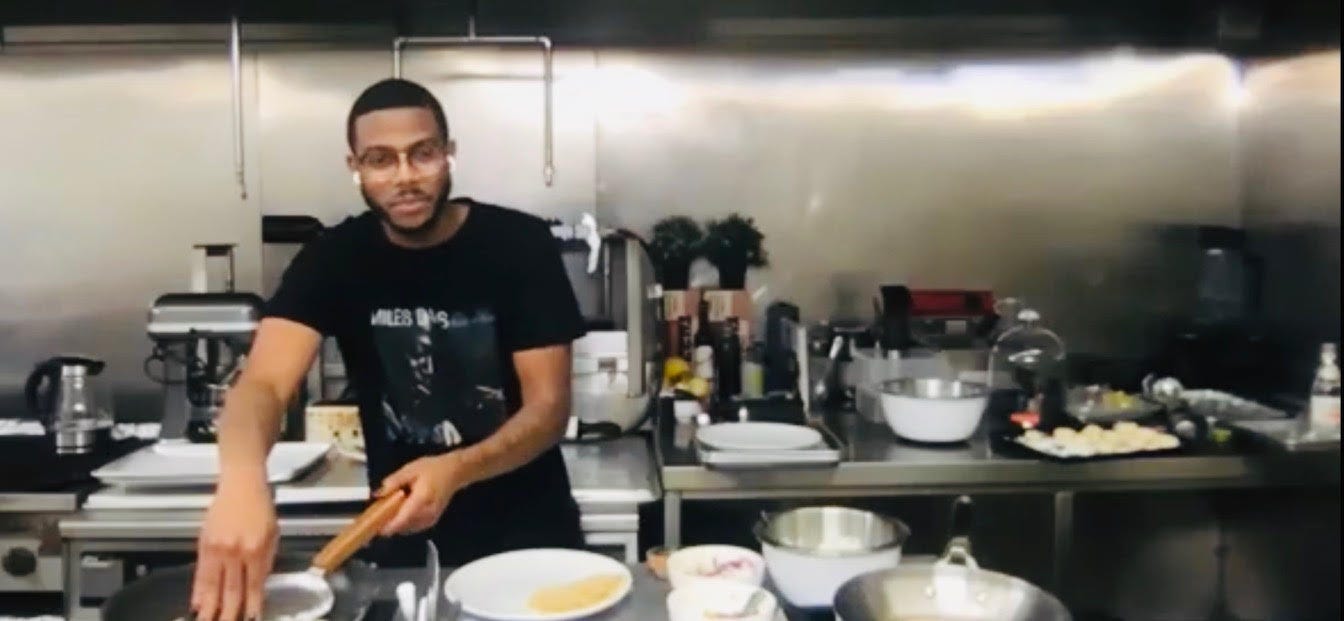 For this year's Chicago Gourmet food festival, organizers decided to take everything virtual. That included recruiting locally based chefs as well as national culinary stars to lead interactive cooking classes where viewers could follow along from their home kitchens.
Yours truly emceed three of these very spirited events, and I was thrilled to work with Kwame Onwuachi, Thai Dang and Art Smith. The award-winning chefs not only introduced guests to their favorite dishes, but they made them personal by sharing revealing stories about themselves.
For example, Chef Dang (HaiSous, Cà Phê Dá) showcased a Vietnamese dish called THỊT HEO CẢI TRẮNG (TEET HEE-OH KAI TRAING). Made with braised pork belly, the winter radish daikon and white rice, the one-pot wonder is comfort food for Dang because his mother cooked it for him and his siblings during his childhood.
He offered a few keys to Vietnamese cooking, including the most important: Use fish sauce for seasoning. "I want to elevate Vietnamese cuisine," says Dang during his episode of the "Go Gourmet Virtual Live Series."
"This recipe [THỊT HEO CẢI TRẮNG] is not my own," he explains. "It's what people eat during the winter. It's also the kind of food my mom made when it was hard times, and she was only able to get pork and daikon. … I grew up with food that I never knew indicated that it was a hard time for her, but for me it was something that she made that I loved."
For his demo, Chef Smith (Blue Door Kitchen & Garden) whipped up his beloved signature recipe, brown rice summer salad. It's a dish, he says, that's helped him keep off the 80 pounds he shed several years ago.
"This salad we probably make every other day at my house," Smith says during his episode. It sounds simple, but it's layered and flavorful with cilantro, spinach and Italian parsley. He also makes it different every time by adding whatever vegetables he can find in his refrigerator.
"It's not just a bowl of rice," he exclaims about the dish boasting a bounty of fresh vegetables. "It's a big bowl of love."
The James Beard Award-winning chef Kwame Onwuachi made fish tacos during his virtual episode. He kicked it up a notch by infusing his West African heritage into the recipe with suya, a popular Nigerian spice blend made with peanut powder, ginger, garlic, cayenne pepper and paprika. His offering, snapper suya tacos with charred avocado crema, was enhanced by the fresh flour tortillas that he made himself.
He reveals that he learned how to make tortillas when he once worked for a Mexican food cart. "I just wanted to learn how to make them on my own, so I took that upon myself," he says.
He adds, about exploring his heritage through cuisine: "You can really see someone's heritage on a plate. You can travel oceans on a plate. I think food is the vehicle for everything. … If you can explore that and explore other people's cuisines, you can get a snapshot into their lives."
His also discussed his hit New York Times bestseller, "Notes From A Young Black Chef," during the episode and how it's inspired aspiring Black chefs across the country.
"It's not a Cinderella story," he insists. "It's not a rags-to-riches [story]. It's not an overnight success story. There are a lot of failures in the book. This book is not just for chefs or Black people, it's for everyone. It demonstrates that just because you get knocked down, you can get back up. And it's not what happens to you, it's the way you respond to what happens to you."
Onwuachi's second book, a cookbook featuring his family's heritage cooking, will be out in 2022.
See the rest of the schedule for Chicago Gourmet's "Go Gourmet Virtual Event Series" as well as how you can help unemployed hospitality workers right here.
[Photos: Key Original Livestreams]